Text
PAMA upgrades are underway. Facility is to remain closed until early 2023.
Peel Art Gallery, Museum and Archives (PAMA) is undergoing a significant upgrade project to improve Peel's heritage complex located in downtown Brampton and home to Peel's historic Courthouse and Jail opened in 1867. This construction project will see improved airflow to enhance visitor experience and to ensure the safeguarding of collections. PAMA will also be taking this time to revisit permanent exhibitions, conduct community consultations and refresh spaces.
During this time the Access Peel Front Desk on the Art Gallery side is accessible from 9 a.m. to 4:30 p.m. Monday - Friday.
Accessible entrance is from the PAMA parking lot and Main Street entrances.
Key dates
November 2021 – construction began
Early 2022 – Art Gallery to reopen
Fall 2022 – early 2023 – Museum to reopen
The Region of Peel Archives are closed for in-person research.  We will be responding to inquiries by email or phone. Response times will be impacted. Visit Peel Archives Research for specific details.
"Thank you to our community, partners and loyal patrons for your on-going support and understanding throughout the pandemic and going forward. We hope to continue to engage with you virtually and welcome you back on-site to our new and improved spaces in 2022-23."  
– Rene Nand, Manager of PAMA and Community and Cultural Engagement.
More information
Infrastructure Canada Funding Programs - HVAC Remediation Projects
Image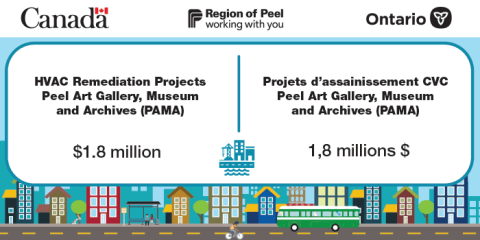 Your Tax Dollars at Work - HVAC upgrades at PAMA
Image